Nourish is a kitchen made to bring creators together. A kitchen designed with the user experience in mind. We can support you and your business with market expertise, provide product support, and guide you through possible challenges.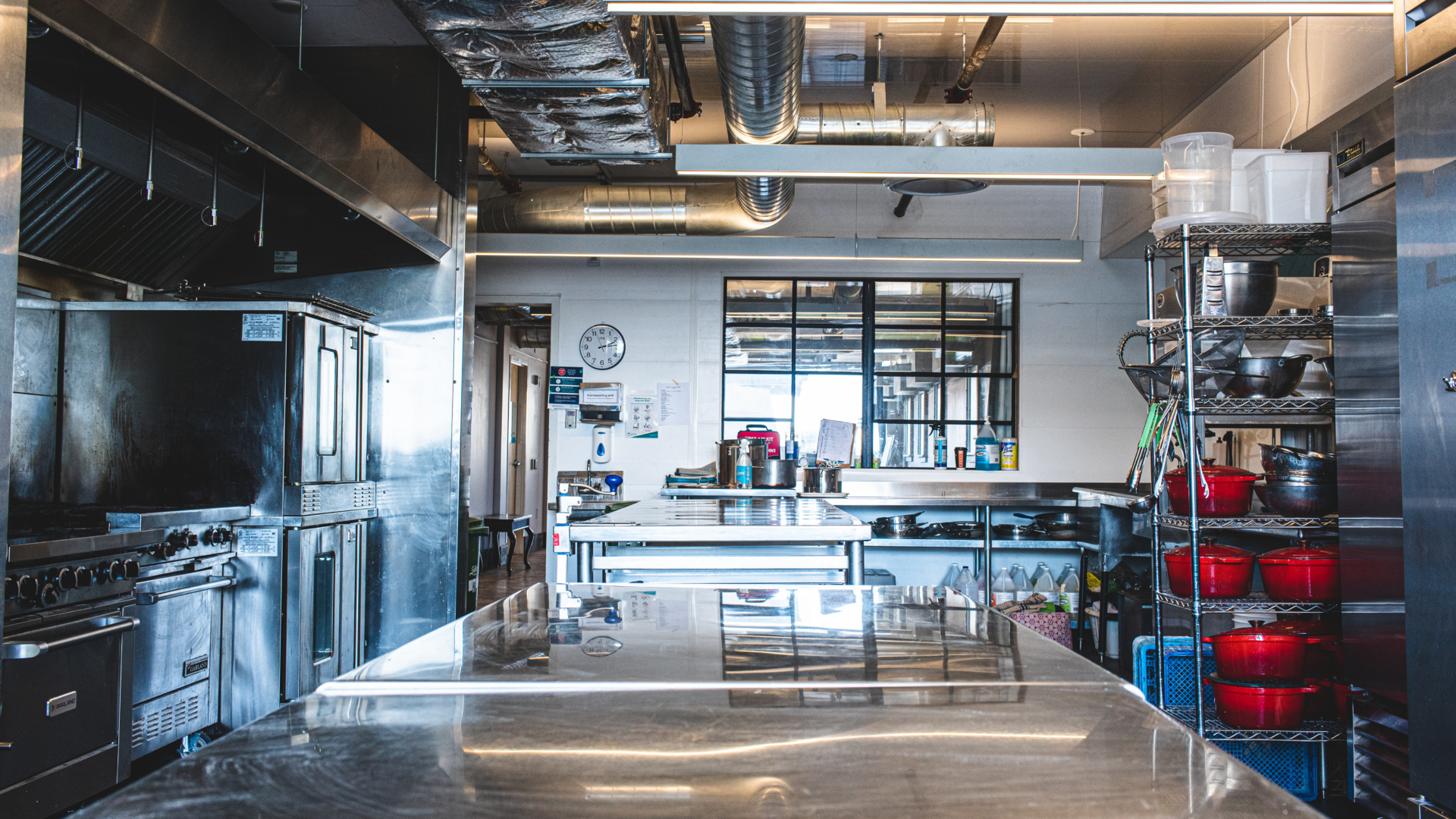 Located on the fourth floor with lots of bright, natural light, use the Nourish Kitchen for a group activity or workshop, or book to pursue your own kitchen activities and initiatives.
Nourish Kitchen is equipped with:
Walk-in fridge
2 6-burner Garland Ranges and gas oven
24ft of stainless steel prep space
Hi-temp industrial dishwasher
30L industrial stand mixer
2 convection ovens
18" immersion blender
Vitamix and Robocoupe
A variety of other equipment and small wares
Becoming a Nourish Member
Becoming a Nourish member at 10C will allow you to join forces with the strong and interconnected community of changemakers in the Nourish Kitchen and beyond. You will have access to this beautiful, public health inspected, fourth floor kitchen and work alongside other inspiring food entrepreneurs in our community.
Nourish Membership costs $200 per year and benefits include:
Engagement and connection with 10C members and community
Opportunity to access kitchen use packages
50% discount on meeting & event space
Discount on paid 10C workshops & events
Newsletter content submissions & promotional support
Promotion of any public-facing events held at 10C
Access to all 10C fee for service offerings
Use of 10C address as business mailing address
Free 1/2 hour consultation with 10C staff
Paid access to longer consultation with 10C staff
Social media member feature
Inclusion in preferred catering list
Using the Nourish Kitchen
Nourish Members can use the kitchen weekly or by the hour. We are excited to work with you to find the best arrangement to suit your needs.
Nourish Enterprise
Nourish Mini
By the hour (shared)
By the hour (private)
Monthly member rate
$500
$325
$25/h
$40/h
Maximum weekly hours
8
4
–
–
Private use
–
–
–
✔
Dry storage
✔
2 shelves
✔
1 shelf
–
–
Walk-in Fridge storage
✔
1 shelf
–
–
–
Notes: All rates subject to HST. Additional dry storage available for additional fees. All packages are based on shared kitchen use unless specified otherwise.
Nourish members may be eligible to receive the following discounts:
Boost discount for organizations with an annual operating budget of less than $25,000
SDGs discount for organizations working toward one or more of the Sustainable Development Goals (SDGs)
Multi-date discount for groups who book at least 3 recurring events in the same space within 6 weeks
Community arts discount for organizations working in the arts
Youth programming discount for those groups working with individuals under 24 years of age